What are customer rewards campaigns?
In the past few years, companies have realized the importance of rewarding customers and distributors. These reward programs give customers benefits and incentives, like gift cards, for doing things such as making repeat purchases or referring their loved ones to the business. Gift cards are especially powerful as a reward because they give customers the freedom to choose and buy what they want.
The goal of these rewards can:

Because of this, customer rewards are now a good strategy for businesses looking to stand out in a highly competitive market.
 Why Businesses Should Run Customer Reward Campaigns
Customer reward campaigns offer several benefits for businesses that implement them.
 Pain Points & Solutions: Things to Consider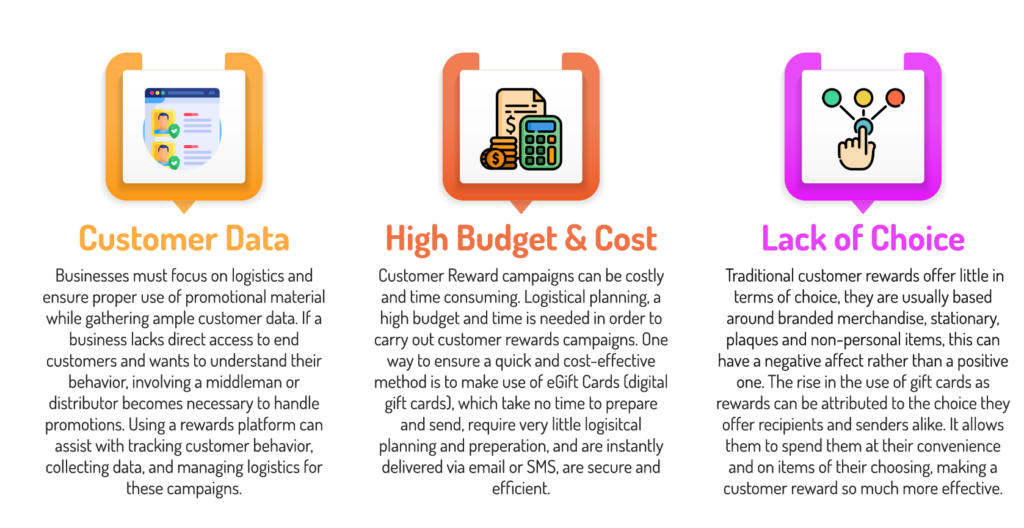 A way to overcome most of the pain points regarding customer rewards is through adopting Gift Card solutions. Unlike other rewards, such as merchandise or discount coupons, gift cards provide customers with the flexibility to choose exactly what they want. They can be used to purchase anything from a variety of products or services, and can be redeemed at any time the customer chooses. Additionally, gift cards provide a sense of value to the customer, as they represent a specific monetary amount that can be used to offset the cost of a purchase. Furthermore, gift cards are easy to distribute and track, making them a convenient option for businesses to offer as rewards to their customers. Overall, gift cards offer customers a valuable and versatile reward option that is sure to leave a positive impression.